2006 World Cup hosts Germany had a lot of stadiums who met the criteria to host games as stipulated by world's football governing body, FIFA. In the end, 12 stadiums were selected to host matches at the 2006 FIFA World Cuptournament on German soil.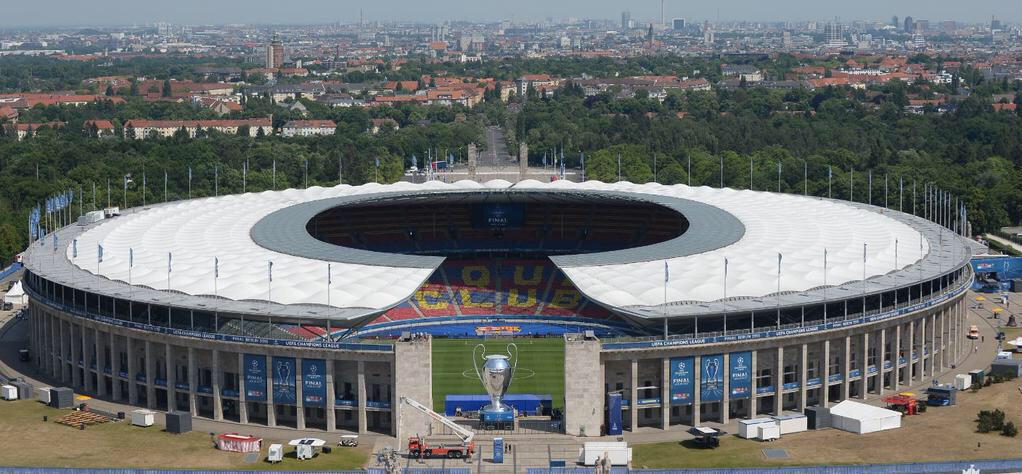 From all the 12 World Cup Stadiums, the Olympic Stadium in Berlin had the most capacity at 72,000 followed by the Allianz Arena with a capacity of 66,000. The Signa Iduna Park in Dortmund is the third biggest amongst the World Cup stadiums for the 2006 edition in Germany with a capacity of 65,000. The Gottlieb-Daimler Stadion in Stuttgart and the Gelsenkirchen Arena in Schalke 04 are joint fourth amongst the 2006 World Cup stadiums at the capacity of 52,000. The AOL Arena in Hamburg is next with the capacity of 50,000.
The Commerzbank-Arena in Frankfurt is seventh on the list with a capacity of 48,000, while the Fritz-Walter-Stadion in Kaiserslautern is eighth with the capacity of 46,000. The RheinEnergieStadion in Cologne is fourth from bottom in terms of capacity amongst the World Cup stadiums used in Germany at 45,000. The AWD-Arena in Hannover is third from bottom with a capacity of 43,000 alongside the Zentralstadion in Leipzig. The last on the list is easyCredit-Stadion in Nuremberg with the capacity of 41,000.
At the end of the 2006 FIFA World Cup tournament, Italy were champions with their fourth title after beating France on penalties. The two teams had played out a 1-1 draw at the end of normal time and extra time. Hosts Germany took third place ahead of Portugal, while Brazil and Spain won the FIFA Fairplay Award. French midfielder Zinedine Zidane was named the best player at the end of the tournament, while Italian shot stopper Gianlugi Buffon won the best goalkeeper award. Lukas Podolski of Germany won the young best player award, while fellow German striker Miroslav Klose won the Golden Boot with five goals.